Dewabet Malaysia – Complete & Honest Review 2022
Ratings for welcome bonus, website's look & feel, list of games, deposit & withdrawal.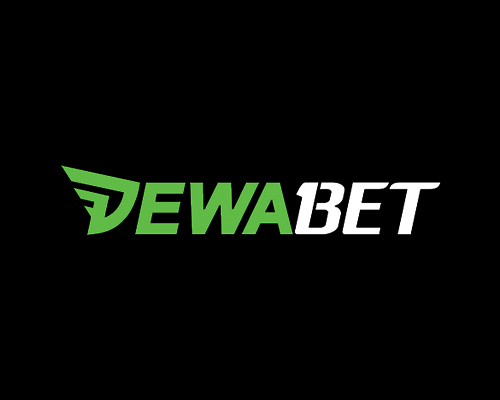 Dewabet Casino Welcome Bonus
100% First Time Deposit Bonus up to RM5,500
Overall Rating
| | | |
| --- | --- | --- |
| | Promotion | 4.7 |
| | Look & Feel | 4.2 |
| | Games Selection | 4.4 |
| | Customer Support | 4.5 |
| | Deposit & Withdrawal | 4.2 |

Design & Feel
At first glance, Dewabet looks a lot like a computer game website. It has a unique and stylish emblem in green and white colour. The website is pretty neat and tidy with black background highlighted by green and blue accents. This is one of the 'cleanest' designed online casino we have ever played. The darker tone is also pleasing and easier to the eyes.
The main menu bar on the main page provides direct access to the games of your choice. There is no fancy dropdown or hidden sub-menus. That's a plus for minimalist lovers. All you need to do is click and go to your desired game. To get support, the live chat is always ready and there is even a Dewabet logo that you can click on that will bring up the chat window.
A lot of thought is placed on perfecting the navigation in Dewabet. It won't take you long to get familiarized with the website. I guess they have taken into consideration that their customers should already know what they want to play. Many online casinos will try to throw or offer as many things as possible but Dewabet seems to go for a more subtle approach. All the important shortcuts are available at the top of the page so you will be able to get to a designated page quickly.
Dewabet offers several main languages of South East Asia. You can click on the country flag to select the language of your choice. It currently supports Bahasa Indonesia, English, Vietnamese, Thai and Chinese. Dewabet is focusing on Asian countries at the moment but we will expect to see more in the future. Overall, Dewabet is a solid choice for all types of players due to its excellent layout and simplicity.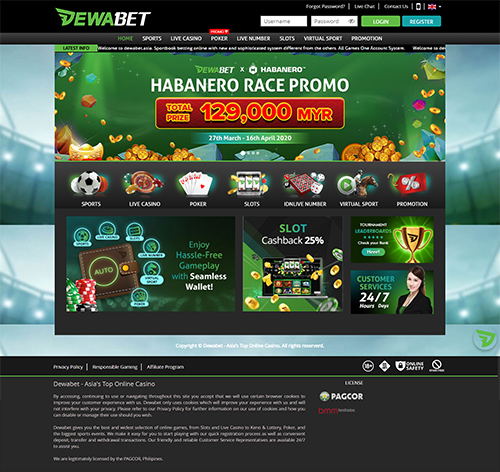 Products
As an online casino driven by Asian players, Dewabet does not fall short on its offerings. It has a solid line of products to accommodate avid players from the region. The staples for all the gaming needs are fully available ranging from sportsbook, live casino, poker, live number, slots and virtual sports.
Dewabet Sports
The sports section is powered by three reputable sportsbook systems. The first sportsbook is powered by SBOBet, it allows fluent sports betting with free live streams and easy mix parlay bets. Over to the next sportsbook, CMD368 is a sportsbook that is also engineered for Asian players in mind. It offers a very comprehensive coverage of football matches with the familiar Asian odds, CMD368 is an absolute gem of sports betting and we find it just as good as SBOBet. Besides these two top sportsbooks, MaxBet is the upcoming sportsbook that is dedicated to Indonesia, Malaysia and Thailand players. MaxBet also offers a variety of sports betting and mini odds. We did struggle a bit on which one to choose from as all of them are performing very well respectively.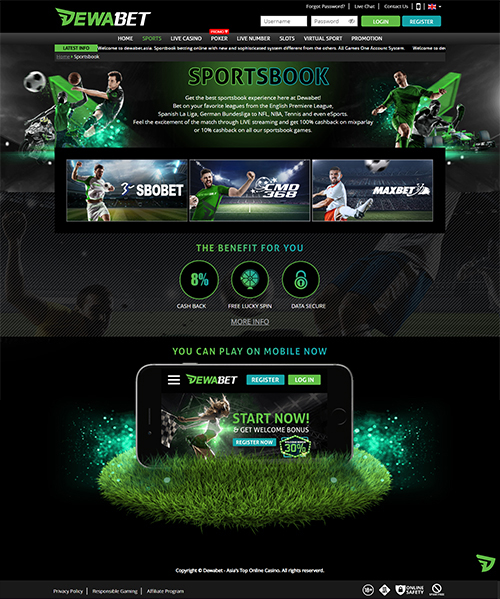 Dewabet Live Casino
We love Dewabet live casino. It is available in both desktop and mobile version. The great thing about Dewabet live casino is its vast choices of live casino partners and games. Supported by a total of 8 different live casino partners, there is no shortage of choices here. Familiar names like GPI, SA Gaming and Gold Deluxe are some of the featured partners in live casino. By using our Dewabet account, we could access and play in all of these live casinos with a breeze. There are currently 7 types of casino games that can be played. Roulettes and baccarats are available with all the 8 casino partners. The extension of other games such as sic bo, fantan, blackjack, dragon tiger and bullfight are also available for play.
For live casino, it is always a great start to dwell into baccarat games with the pretty dealers. We had 8 live casinos to choose from so we tried our hands on OG and Sun Bet. You can either choose to play alone with the hot dealers or join the same table with players from all over the world. The experience was totally worth it and it really felt like being in a land casino. The great part of live baccarat is you are able to see the statistics of the previous games. It serves as a good reference for good luck table or jinx table. You can easily switch between tables or even play in multiple tables at a time. All steps are clearly stated and notified with voice command which is pretty convenient. Unlike land casino, it is often too noisy and stuffy to remain comfortable at the table. The more relaxed setup at our office makes it very pleasant to stay on for many rounds of games. All the live dealer games worked perfectly, they do offer more headroom for players to determine which will be their favourite live casino. Don't ask us which one is the best because it is very hard to answer that. All of them worked really well and it is just the matter of personal preference. Do take your time to try them out if you are indecisive, it won't break a sweat to move from one to another.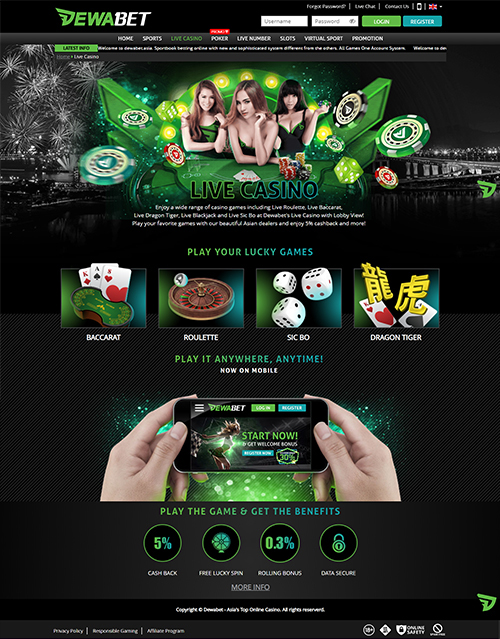 Dewabet Poker
Dewabet's Poker is as fabulous as its live casino. It houses 7 types of poker tables for you to compete with others players. Dewabet Poker is the largest network in the region. The 1 Billion Tournament is really something that poker lovers should not miss. There is a pool of 1 billion chips to be won only by 100 players. Due to popular demand, there is a new season coming up. DewaBet allows only 2500 players to compete in the tournament. We were lucky enough to get a spot in the tournament and it is pretty simple, all you need to do is perform a buy-in of 800,000 T-coins and you will be up into the race. Daredevils can also strike their chance by joining the qualifier rounds to obtain the ticket to the 1 Billion Tournament. In the qualifier round, players will need to grab the openings during the specific time. It is either be there or be square!
For poker enthusiasts like us, the classic poker games are very good to fulfil our daily poker needs. If you want to try something regional, there are Kiu Kick and Camecan domino games.  We did try our hands on them and they are not really that hard to play and we managed to win a bit from these games. You might also want to try out to take the position as Ceme's dealer to roll up more chips. If poker proves to be too hard, you can also play in Big 3 or Blackjack for a quick flip. Dewabet Poker works well with mobile devices, we highly recommend players to download the mobile version should you currently using smartphone to access. Through our experience, Dewabet Poker is on the best place for poker. This truly makes Dewabet the true God of Poker in South East Asia.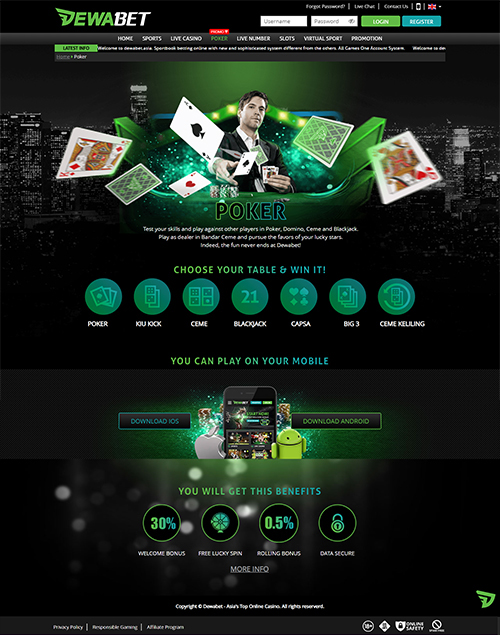 Dewabet Live Number
Dewabet Live Number doesn't really limit to just number games or lotteries. We are stoked with the rarities found in this section. Games like Monopoly and Billiard are some of the rare gems that you will hardly find on a typical online casino. They are not so dry like those conventional bet and win number games.  Asian players will also appreciate games such as Sic Bo, Oglok, Red White, Suwit and Gong Ball. Dewabet actually took it to another level to incorporate such a unique and interesting section into the menu. We believe it will surely attract a lot of players to come in and play.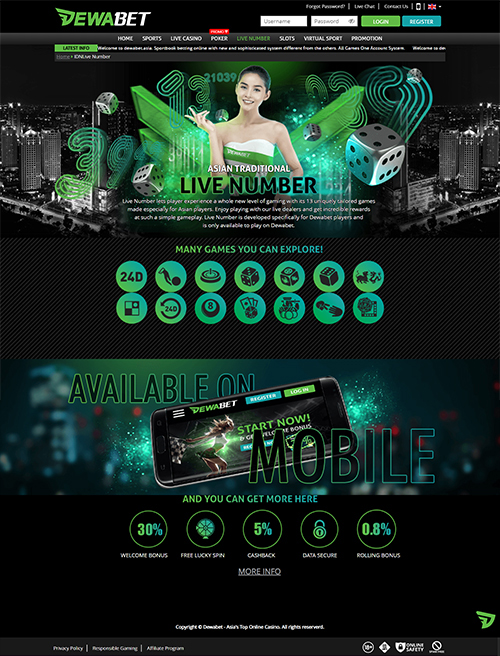 Dewabet Slots
This is the place where you will find the rest of the games such as fishing, slots or even table games. There is a wholesome load of games that you can explore. Most games are sorted either by developer or game type. For newbies, the "most popular" section is the easy access to discover which are the most played games by other players in Dewabet. You will find famous developers from the industry such as Habanero, Microgaming, GPI and Pragmatic Games. You may dive directly according to the game developer of your choice and search for your favourite games. Some of our recommended slot games are Monkey God, Vicky Ventura, Fire Strike, Wild Trucks and many more. If you want to play classic table games, Hold'em and Blackjack are some of the best options around. For a hassle-free experience, new players can choose to warm up in slots section.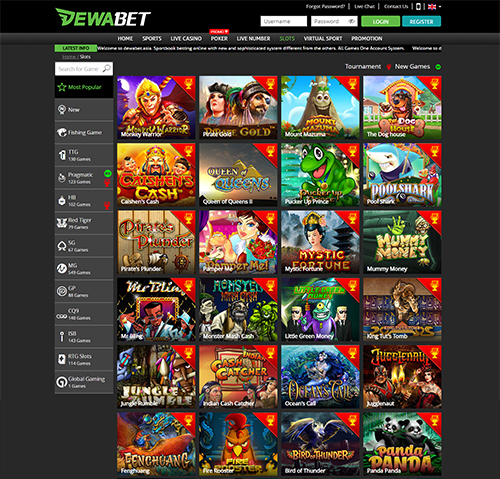 Dewabet Virtual Sports
Sports fan who doesn't get the chance to watch real life horse racing or auto racing will still be able to have fun in virtual sports. Wager your bets and unleash instant wins in games such as bike racing, speedway racing, horse racing and greyhound racing. You can also enjoy virtual sports via your mobile devices.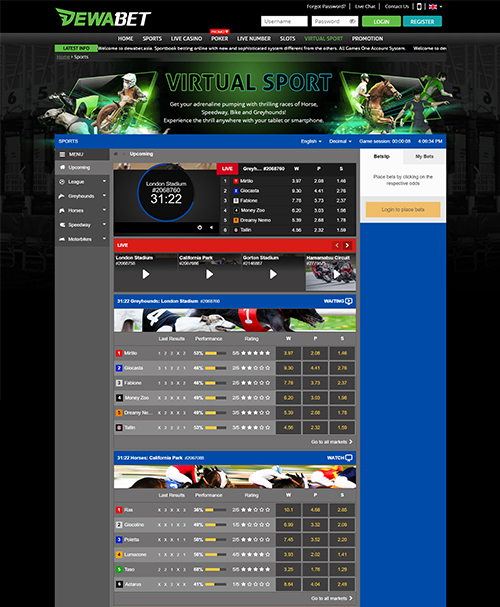 Customer Service
Overall, we can see that Dewabet prefers customers to use chat and messaging service for help and support.
Live Chat
Dewabet strongly recommends its user to use the live chat service for a seamless support. It is available 24/7 and is the fastest way to reach the customer service representatives. It can be accessed from the live chat icon on the main page.
Instant Messaging (Territory Applies)
WhatsApp: This is another way to contact Dewabet with a dedicated number.
WeChat: There is a QR code to scan from the contact page.
Other types of instant messaging apps such as Line, Zalo, Telegram and QQ are also available depending on region. Dewabet employs individualized contact points according to the country of the players. This is to help eliminate communication barriers and downtime.
Social Network
Customers can choose to follow the latest updates from Facebook, Twitter, Instagram and Youtube to enable self-help as well as to provide live updates for customers directly. Customers will expect to get first hand news on server maintenance, new promotions and even tutorials on how to play certain games.
Email
LiveChat
FAQ
Phone
WhatsApp
WeChat
Deposit
Dewabet accepts bank transfer as its sole option for deposit. There are five main banks in Malaysia available for bank transfer.
Local Bank Transfer
Payment Gateway
E-wallet
Credit Card
Crypto
Withdrawal
Players will need to get themselves authenticated with the correct account details that match their Dewabet account to avoid any fraud transaction.
Bank Transfer
E-wallet
Crypto
About Dewabet
You don't have to be the god of gamblers to join Dewabet. This down-to-earth online casino is one the fastest growing names you will find in the online gaming industry. Fuelled with the ideas to create the online casino that is specialized towards South East Asian market, Dewabet is made to fulfil the needs of players who prefer simplicity and fast access. The name itself is derived from the Indonesian word "Dewa" or God in English. It is then fused with the word bet to form Dewabet. It is literally translated as "god bet" or "god of bet". We would agree more on the latter one.
Dewabet regards itself as a minimalist online casino that is focusing on players mainly from Indonesia, Malaysia, Thailand, China and Vietnam. It currently supports 5 main languages such as Bahasa Indonesia, English, Chinese, Thai and Vietnamese. Dewabet allows itself to provide fast and stable servers as well as stable connections for its customers. Dewabet is definitely one of the best options for players who prefer "grab and go" style online casino. Being simple is not really a bad thing and with that being said, we can expect players who have basic IT knowledge can benefit from Dewabet's design philosophy. There are also guided videos and steps to teach players on how to play and place their bets.
Dewabet is strongly against spams and intrusive ads. It employs high standard facilities and system to ensure smooth operation without affecting the quality of the gaming experience. So players are being assured to enjoy clean and spam-free experience. Dewabet is a registered company based in the Philippines and operates with full license. Dewabet is licensed by Pagcor or better known as Philippines Amusement and Gaming Corporation. Pagcor is fully owned by the Philippines Government.
Promotion
Dewabet offers up to 100% or RM5,500 welcome bonus. Unlike other online casino, Dewabet stands firm on its ground.  It is all about pure gaming fun and rewards are generated directly from gameplay. To earn the bonus, player will just need to achieve turnover of 30 times the value of the initial deposit. It is quite fair and player will have 30 days to fulfil the turnover in order to claim the initial bonus.
For sportsbook, player can enjoy cashback from the losses in a weekly basis. As long as it is 3 times the value of total loss, player can receive a 10% cashback up to RM3,000. Cashback is also available for mix parlay bets with the condition of bets with more than 5 parties. Player can claim the bonus with the occurrence of a loss in one full match. It is good to note that half losing, half winning or draw is not eligible for the bonus. Do find out more on how to earn this cashback from Dewabet support team.
Cashbacks are also available for live casino at 5%, just like sportsbook. It has to be 3 times the value of total loss with a maximum of RM3,000. The same goes to slots, which is at 25% with a maximum cashback of RM580 and 5% for live number with a maximum cashback of RM580. Besides cashback, turnover bonuses are also offered to live casino, poker, live number and virtual sports. For the latest rates and special promotions, it is still best to refer back to Dewabet's promotion section.
As encouragement, players do get the chance to win mystery box with cash prizes every two weeks. There are also some lucky draws to win gadgets and free wheel spins every week. For all the latest promotions and information, players are encouraged to follow Dewabet's social media accounts and website for the latest updates.