CMD368 Malaysia – Complete & Honest Review 2023
Ratings for welcome bonus, website's look & feel, list of games, deposit & withdrawal.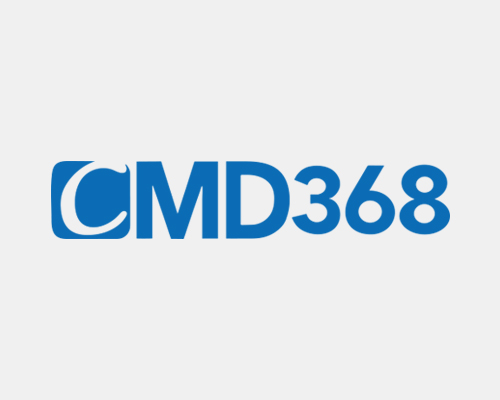 CMD368 Casino Welcome Bonus
50% First Deposit Bonus Up To RM300
Overall Rating
| | | |
| --- | --- | --- |
| | Promotion | 4.4 |
| | Look & Feel | 4.5 |
| | Games Selection | 4.7 |
| | Customer Support | 4.2 |
| | Deposit & Withdrawal | 4.2 |

Design & Feel
With its roots from sports betting, CMD368 has a very sporty and athletic appearance. The website layout is painted in white and blue palettes. It has a ribbon bar menu that users can quickly navigate to the designated game sections. The main page has a full coverage of products offered by CMD368. Pictorial links and menus are also available for instant access. The main page also features news on upcoming bets, latest promotions and hottest games.
There are dedicated home and mobile buttons on the menu.  Players who wish to go back to the main page can use this home button while the mobile button is used to switch to mobile mode optimized for smartphones. Pointing on the home button will also reveal the links for banking, info centre and support. All the game categories are neatly arranged on the menu bar for easy navigation. Mouse over to these game categories will also expand the menu and reveal more options. The cashback rates and sub-categories are shown in the expanded menu.
There are 3 dedicated sliding menus on the main page. On the left, there is a download menu for direct download of app for Android, iOS and PC. Support menu is on the right for instant access to Live Chat, WeChat, Skype, Phone and Telegram. There is also a dedicated Live Chat drawer menu at the bottom. It allows instant connection to CMD368's support representative.
Overall, CMD368's website looks plain & simplistic. It might not be as flashy as some other online casinos but it is utilitarian enough. Ultimately, the visual part doesn't affect the gaming experience and we are satisfied with the user interface and quickly got used to it.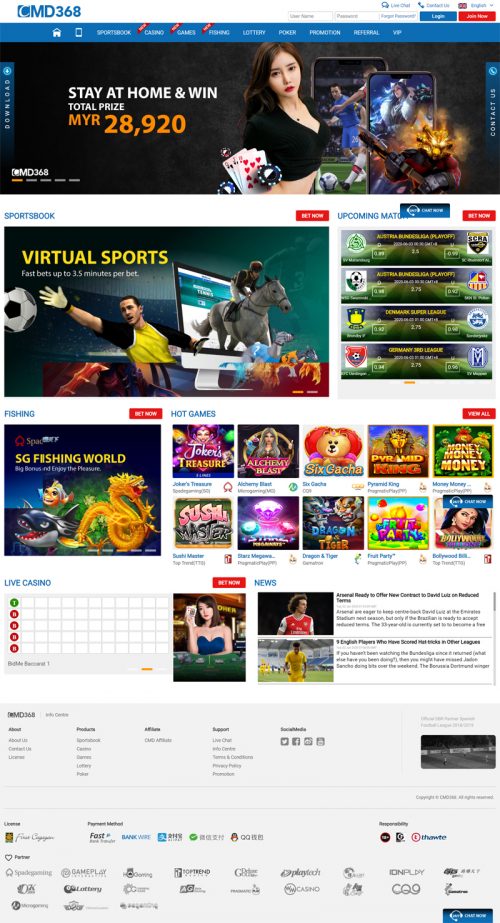 Products
CMD368 has an extensive range of products in its pipeline. While being dubbed as a sportsbook company, it doesn't disappoint on delivering the full experience as an online casino. On the menu, CMD368's offerings include sports betting, casino, games (slots), fishing, lottery and poker. CMD368 categorizes all the sections well thus there is no need to hunt or browse around just to find what you want.
CMD368 Sportsbook
CMD368 sportsbook is one of their top-tier specialties. As a seasoned bookmaker, it's a straight cut. There are only three sub sections in sportsbook ranging from sports, e-sports and virtual sports. CMD368 itself is also a provider of sportsbook to other online casinos. The sportsbook is focusing on Asian Handicap with live results and odds. Players can also customize the view according to their taste.
The abundance of selections can be quite overwhelming. There are so many types of sports we can choose to bet so we chose to stick with soccer and basketball which we as Malaysians are more familiar with. Moving on to e-sports, it is a section dedicated to popular online video games such as League of Legends, King of Glory and Dota2. If time is an issue for you, you can go straight up to virtual sports for a quick bet. There are football, tennis, basketball, horse racing and greyhound racing to choose from. All of them are real-time, live events so you can watch live and get instant results.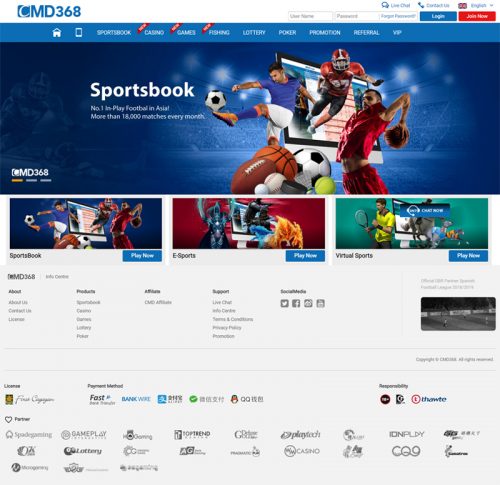 CMD368 Casino
Stability and smooth operation are one of the main concerns when it comes to live casino. CMD368 works with various partners to ensure players can continue to enjoy their games for countless hours. There is a total of 11 live casino partners across the board hence players can pick and play in the live casino of their choice.
Playing baccarat is no longer boring thanks to partners like AG ad AE Sexy Casino. If you play in AG casino, be sure to interact with the beautiful anchors in the house for an unforgettable, eye candy gaming experience. Playing baccarat alone doesn't really have to be boring and mundane. We really like to chat with the pretty anchors and dealers. That really keeps the momentum going and somehow, we got luckier. To spice things up, we also tried our luck in AE Sexy Casino. It is always a teasing experience thanks to these beautiful and sexy bikini dealers. Things can get beautifully distracting sometimes but we still won some hands in baccarat. AE Sexy Casino has a pretty impressive setup with entertaining experience.  If you are into serious and formal casino experience, DG Casino and GP Casino are some of the good options. Both companies are famous with their gaming stability and user friendly interface.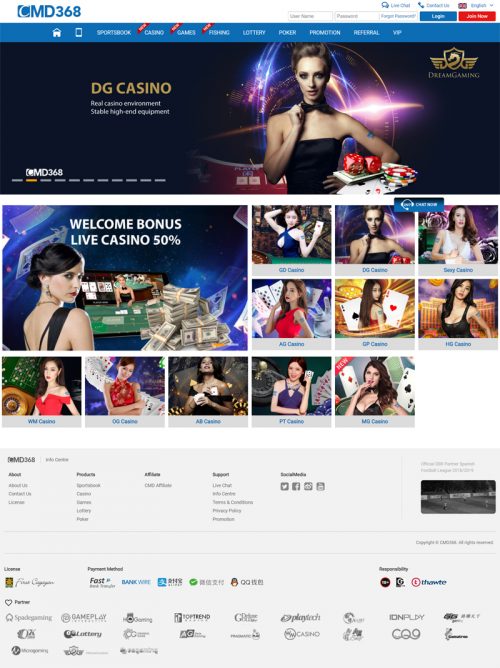 CMD368 Games
CMD368 is still upgrading this section and currently it offers up to 9 gaming developers. This is an important segment for players who prefer slots or video games than conventional casino. As a whole, games section doesn't just limit to slots or RNG games only. Other forms of table and arcade games such as video pokers are also part of this section. The library is huge for you to explore and experience every single type of games. Some games also feature live host where players can interact with them just like a live casino.
Big names like GPI, MG, Playtech and Pragmatic Play are featured in games section. For those who had played slots long enough will be very familiar with their slots games such as Fire Strike, Playboy, Highway Kings etc. We tried to play with games from different developers and even with those which are not so well known, all of them turned out to be smooth and steady. It is possible to play it from mobile either through a web browser or app downloads.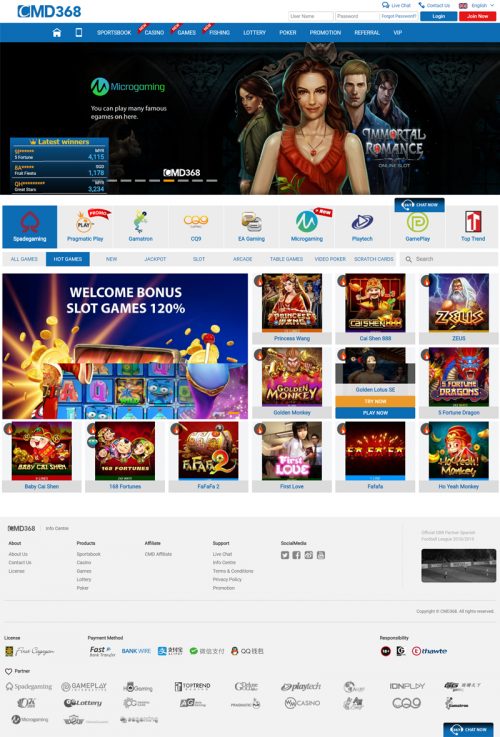 CMD368 Fishing
The title speaks for itself. This section is all about fishing game. It is an extension of games section which only features all the available fishing games in CMD368. Currently there are five games available from four developers. Fish War (SG), Fish (SG) God, Fishing World (GG), Cash Fish (PT) and Fishing King (AG). If you are good with shooting games, these games will be perfect for you.

CMD368 Lottery
This is specially catered for keno and lottery lovers. There are currently 3 types of game available. QQ Keno is the straight up keno game which goes by bet and draw basis. Localized lottery games from Thailand and Vietnam ARE also available. QQ Thai Lottery is an iteration of Thai lottery whereas Ok368 is meant for Vietnam.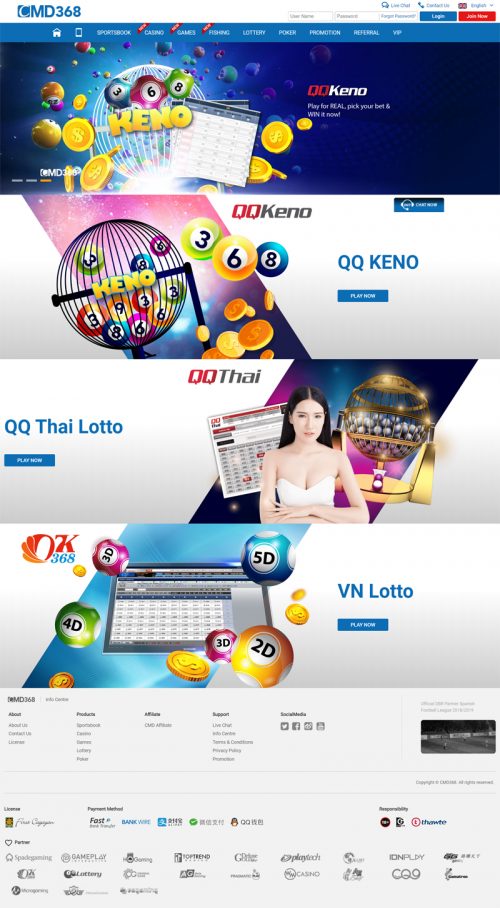 CMD368 Poker
Powered by IDNPoker, it is the largest poker network in Asia and also well known in Malaysia. This is by far the best poker platform we have ever experienced. Catered for Malaysian players, there are over 600,000 players each month! We had played in numerous rounds of poker tournament and the tables are always full. That makes sense for a network that is serious on gathering players across the region together. It is all about competing with real life players that really matters.
We also find that IDNPoker is highly customizable. For a newbie, you choose to sit on tables that are within your limits. You can also opt to play casually with a quick game. If you have time dedicated for poker, you should go ahead and play in tournaments. There is a pool prize and jackpot to be won. There is a type of coin called Tcoin which you can earn through gameplays. You can use the accumulated Tcoins to redeem tickets to special tournaments. With that, you can be on the mission to win big jackpots or pool prize money. Be sure to collect enough Tcoins for  your tournament needs.
IDNPoker supports multi currencies so you don't need to worry so much on the conversion rate. This allows more players from different countries to join the network. You can be assured to meet more new players from time to time. Talk about players, you can also customize the size of the table and private table. IDNPoker is by far the best online poker you can ever have. CMD368 offers great rebates and cashback for poker players. It is not to be missed.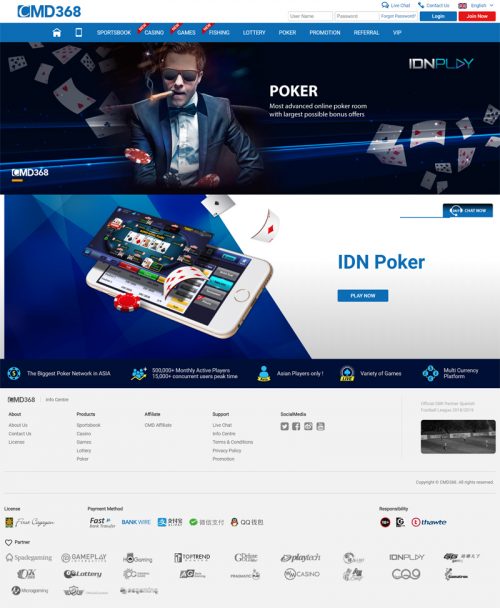 Customer Service
CMD368 has over 200 highly trained staffs to support their customers. For faster response and better experience, it is best to stick with internet based supports.
Email
LiveChat
FAQ
Phone
WhatsApp
WeChat
Live Chat
This can be quickly accessed from the shortcut in the main page. It is super easy and the most effective way to reach the customer service agent.
Instant Messaging
CMD368 customer support can also be reached via Skype, WeChat and Telegram. Players can just add the user ID to get connected with customer service agent.
Phone
There are hotline numbers for customers to call. Local numbers are available depending on territory. Languages supported (including Chinese dialects): English, Mandarin, Khmer, Thai, Vietnamese, Bahasa Indonesia, Hokkien, and Cantonese.
E-Mail
For conventional email support, customers can send email directly to [email protected].
Deposit
The easiest way to deposit is via bank transfer. It can be done through ATM or online banking. CMD368 also offers payment service such as Ezzie Pay and Pay Trust 88. Bank transfer allows up to RM20,000 deposit with minimum deposit as low as RM30. Pay Trust 88 can accept up RM10,000 with minimum deposit of RM30 while Eezie Pay can accept up to RM50,000 deposit with minimum deposit of RM50. Eezie Pay is highly recommended for high rollers and VIP.
Local Bank Transfer
Payment Gateway — EeziePay, Paytrust88
E-wallet
Credit Card
Crypto
Withdrawal
Only bank transfer is available for withdrawal. Players will need to fill up the form and allow 5 to 15 minutes time for money to be transferred to the account as stated by players' own instructions.
Bank Transfer
E-wallet
Crypto
About CMD368
Founded in 2016, CMD 368 started to operate with the aim to fulfil the needs of Malaysian players who wanted a versatile and feature packed gaming platform. It managed to make a name for itself as a popular bookmaker particularly among players from Malaysia. Due to the differences with the sports betting system in the Western world, there was a growing need for sportsbook with Asian (especially for Malaysia players) handicap and betting system. CMD368 saw the opportunity to tap into these needs and it quickly grew to become a prominent name in online sports betting.
As times goes by, CMD368 did not just stop with sports betting alone. As an emerging gaming company, CMD368 pushes itself to offer more than just sports betting. With the aim to bring out the best of both worlds, CMD368 succeeded in making its name as an accomplished online casino. Thanks to its good reputation in bookmaking, CMD368 has expanded to become well known to slots and poker players. During the online casino boom, many Malaysian players were left out due to several restrictions especially the issues of depositing and withdrawal. With CMD368 in place, many newcomers were able to play in online casino.
Currently CMD368 supports mostly players coming Malaysia and other Asian countries. While it is a moderate scale online casino, the choices of games rival bigger providers. CMD368's offerings are comparable to the big names out there. We find CMD368 surpassed our expectations with its ease of use and intuitive website.  As an assurance, CMD368 is a fully regulated online casino under Cagayan Economic Zone Authority (CEZA) in the Philippines. CMD368 was also the official DBR (Digital Board Replacement) partner for Spanish Football League in 2018/19 season.
Security
The connection between players and CMD368 servers is fully secured and encrypted. This is to ensure players are protected from harmful threats such as cyber-attacks and identity thefts. CMD368 treats all the player personal information strictly and confidentially. To understand more about the handling of personal information, you should review or refer to CMD368's terms and conditions page.
Promotion
CMD368 offers quite a lot of special promotions to both new and current members. It is also good to always get yourself updated on the latest promotions at the promotion page.
Poker
New players can get 15% welcome bonus and up to USD15. The rollover required is only 8 times within 7 days. Besides that, players also can claim for extra bonus if the turnover requirement has been met. The extra bonus can go up to USD50. Poker players also can enjoy up to 0.8% weekly rebate. 0.8% is only applicable for Diamond member. Normal member still can claim at the lowest rate of 0.3%. You may refer to the VIP page on the rebate rates.
Live Casino
For first time deposit, players can claim 50% bonus up to USD100. The rollover required is 20 times in 30 days. We find this welcome bonus to be very attractive. There is also a reload bonus of 20% or up to USD50 for live casino. It has limited slots of 100 available. It is a one-time bonus where players can claim during the promotion weekly schedule. Rollover of 17 times within 30 days is required to claim the bonus. There are more promotions for Live Casino however we are not able to share all of them with you. Just drop by at the promotion page to learn more on the latest promotions on Live Casino.
Slot Games
Slots fans will be happy to know that up to 120% welcome bonus is available for first deposit. For Malaysians, a minimum of RM100 will be qualified for the welcome bonus. The maximum bonus is RM450; that is a huge amount for many rounds of fun time with slots. Player will require a rollover of 15 times within 30 days to claim the bonus. There are also other promotions for slot games. Most of them are only available for limited time only. Better act quick to sign up as member now to enjoy these special promotions.
We will have to stop at slot games on the promotion part, we had tried our very best to maximize the promotions available but we are overwhelmed by all the exciting offerings. If you are looking for promotions for lottery and sportsbook, be sure to visit the promotion page to find out more.
CMD368 VIP Club
Be rewarded for being a loyal member with CMD368! High rollers and enthusiastic players will appreciate the benefits of becoming a VIP member. By invitation only, the lucky member will start with Bronze VIP if he/she has met the turnover requirements.  VIP member will receive benefits such as higher rebates, higher bet limit, priority queue for deposit/ withdrawal, personal agent and many more. In order to become a VIP member, you will need to achieve at least a turnover of RM200,000 (non casino turnover) within 30 days. You are expected to receive an invitation if you have met the requirements.  As it progresses, you might even stand a chance to become a Platinum VIP member which is purely by special invitation only.